My family and I enjoyed the sunny weekend recently and the warmer temperatures in Mississippi. So we decided to wash our car and our van! It was a fun family activity.
And we used Shaklee's Basic H2! It's works great for car washing. I just filled a bucket with water and added about 1-2 TBS of Basic H2. Got a few sponges and a hose and went to work. The kids loved it!
I have no idea what my youngest is doing in this picture. After we were done both boys were soaked and Benjamin had suds in his hair. Thankful for non-toxic suds! 🙂
Basic H2 works in so many ways so I just wanted to highlight one way we use it. It's a concentrate so you mix with water.
For windows and glass: 1-2 drops into 16 oz water in a sprayer
For All Purpose cleaning: 1/4 tsp. into 16 oz water in a sprayer
Degreaser: 1.5 tsp into 16 oz water in a sprayer
Basic H2 works great for mirrors, glass, counters, stoves, microwaves, tables, dusting, cleaning produce, floors, on wood, cars, and much more! They say there are 1000 uses for this great product!
Did you know Basic H was the first biodegradable cleaner? Dr. Shaklee made it in 1959 and it was featured at the first Earth Day in 1970.
In honor of Earth Day, I have a great special to share with you on Shaklee's Get Clean starter kit which includes the Basic H2! Be sure to comment and contact me to redeem this.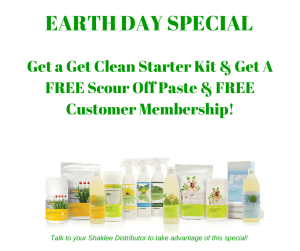 We love Shaklee cleaners because they are so safe, work so well, and are so concentrated so they are very inexpensive!! Even cheaper then using vinegar!
Are you ready to try Shaklee? You will be glad you did!
Have  a  great day!
Rebecca