I'm taking a day off from sharing about our free trip to California and sharing a quick recipe post. If you've missed the first two posts on our great trip you can see them here:
If your family is like mine, you love pizza!!! It's not always the healthiest choice though, right? I've found that it doesn't take too much time or energy to make a great tasting, healthy, homemade pizza! That's what we did earlier this week and thought to share it with you!
First things first, make the crust:
So, if you have followed any of my recipe posts, you know I don't really like to measure. It keeps it interesting! But to give you an idea of how you can make your own crust, this is roughly how I did it:
Preheat oven to 400
At this point I usually get whatever meat or veggies cooking that I want. This time I used ground chicken and browned it with garlic, pepper, oregano and basil. As it browned I worked on my crust.
Crust:
2 cups flour
1/2 cup Shaklee Instant Protein (this is Shaklee's baking protein that is a wonderful substitute for flour. It adds some good nutrition that isn't lost when you heat it up. I use this all of the time in recipes, to thicken soups, pancakes, etc. Also mixed with water makes an easy and healthy soy milk. This was the very first protein powder ever made and such a healthy choice!)
2 tsp baking powder
1 cup (or more if needed) water
You can add about a tsp. of oil if you'd like. I did not this time.
1 TBS garlic powder
1 tsp onion powder
1 tsp oregano
1 tsp chia seeds (great nutrition! Omegas, fiber, and much more. Great super food to add to recipes. I stir into my smoothees too)
Black pepper to taste.
(notice I didn't use salt. We don't use a lot in our house. But you can give a little shake from the salt shaker if you feel it's necessary. Really, the sauce and cheese and toppings will add it for you)
Kneed dough and roll out with hands on a floured surface. I do mine right in the pan to save on dishes. Keep dough floured and spread to desired thickness of crust. Put in oven for about 10 min. while you make the sauce.
And now for the sauce! I typically make my own. It's super easy! All you need is some regular tomato sauce ( a small jar or can will do. If you're really ambitious you could get some fresh tomatoes and blend them in your blender and then add the other ingredients) You can also add a little tomato paste to thicken it. I didn't have any so I didn't use it this time.
Sauce:
1 small jar or can of tomato sauce (or blend up some fresh tomatoes)
1/4 of a sweet onion
2 cloves garlic (the more the merrier!)
Fresh Basil and oregano  (I happened to have these in my garden. You can omit if you don't have but add extra spices)
sprinkle in any spices you like: garlic powder, onion powder, basil, oregano, pepper, etc)
Blend till smooth! I love my Magic bullet for this.
Last, stir in chia seeds. You don't want to blend these as it will break up the good fiber content of the seed.
When your meat is brown, your crust and sauce are ready, you're ready to put it together!
Spread a thin layer of sauce over pizza leaving a little space around edges.
Add toppings! My kids don't really like cooked veggies which is why I added them to the blended sauce. (shhhh!). But you could sauté things like peppers and mushrooms while your meat is cooking (or whatever you like on your pizza) and add those next. Then add cheese.
It's great to customize your toppings depending on your family's taste. I added some fresh basil from the garden on my and my husband's half.
Pop it into your 400 degree oven for another 15-20 min. or until crust is browned.
And Voila! It was delicious!!! And healthy! And everyone loved it!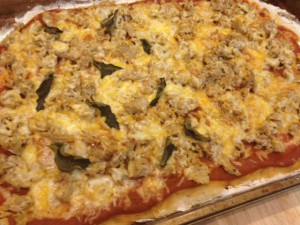 Be sure to pair it with a nice fresh summer salad!
My kids love raw veggies so we try to load them up here!
And don't forget the dressing! It's super easy, healthy and cheaper to make your own! I haven't bought store bought dressing in a few years! You can find several recipes online. But mine is just a little Extra Virgin olive oil, a little less vinegar (I use what I have on hand but this time was apple cider). mustard (I used a basil mustard, about a tsp.), raw honey (about 1 tsp or less), chia seeds! and garlic. Yummy and healthy! My kids love it too!
Do you make your own pizza? What's your favorite recipe?
Tip: I don't follow recipes exactly because I usually do not have all ingredients in the house. Being flexible and substituting is a fun part of the cooking process. So use whatever ingredients and spices, etc you have. And share your creation with us!
Another tip is to get your kids involved in the cooking process! They are more likely to eat it and learn about eating healthier options!
Thanks for stopping by!
Have a great day!
Rebecca