Have you ever been on a weekend (or longer) spiritual retreat? It is truly an awesome experience and I recently did this and wanted to share.
I blogged about my experience at the Our Lady Queen of Peace retreat center near Memphis last year and you can read that post HERE. I went back with several women from my church recently, and it did not disappoint. I was able to take a whole weekend to renew, refresh, take quiet time for myself and spend a lot of time with Jesus. It.Was.WONDERFUL!!! I felt like I could have stayed a whole week more!
The weekend focused on the book of Psalms, which I hadn't really studied before. I used to look at Psalms, which is in the Old Testament of the Bible, as nice (and sometimes not so nice) poetry set to music. But when I dug in a bit over the retreat weekend, I learned there is so much more there. I have been challenging myself to read and meditate on a psalm per day since, and it's been really terrific. I highly recommend!
I wanted to share some of my pictures. The weather was in the 60s and so beautiful. I took a walk on Saturday during some free/quiet time that I had and found a beautiful life size stations of the cross in the woods near the retreat.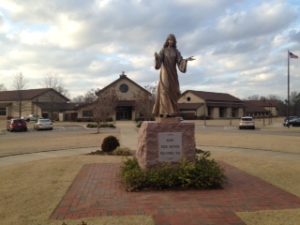 Our church donated 2 bricks to the retreat center, which was built in 2005, and here is one of them:
I was able to play my flute again this year for the masses and one of the prayer services, which was fun.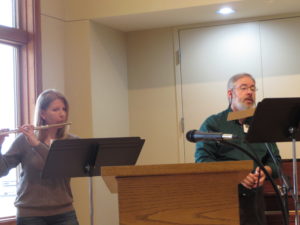 I chose to get a private room again (you can have a roommate too) and it was perfect. As a busy mom, I don't get a lot of quiet time, so having my own room really helped me to stay focused and reflective. The rooms come with a private bathroom and shower and both years I lucked out to have a view of the pond and fountain.
If you have never been on a spiritual retreat, I really recommend it. If you have been on one, then I don't have to convince you how wonderful they are! The retreat center I was at has women's, men's, couples and marriage encounter retreats. My husband and I did a Marriage Encounter in Milwaukee a few years ago and we plan to do one at this center in the near future. Those are also really wonderful and I highly recommend!
Thanks for reading. I would love to hear about your retreat experience!
Rebecca