This post is Loooonnnnggggg overdue!! I have taken a bit of a break from blogging but wanted to get back to it and share something wonderful that I experienced recently: My first Shaklee Dream Trip!!
David and I have taken other Shaklee trips like to the New Directors Conference and he has spoken at a number of conferences about supplement science with Shaklee. We even spoke together in Minneapolis last year at a conference, which was a lot of fun. I also wrote about my parents trip to the New Directors Conference. All of those trips were paid for. But this trip, was unlike any other I had experienced. And I was so grateful for the opportunity.
How does one get on a trip like this you may wonder? It's definitely not something you can do by yourself. It truly is a team effort and I get to work with such an awesome group of people who have joined me on this journey of helping people to create healthier lives through Shaklee. My mom is among those people and the person who introduced me to Shaklee products before I was even born! It's fun to partner with her now and she loves helping people with Shaklee in her retirement.
Here are some of the pictures from this trip to Playa del Carmen, Mexico. I hope you enjoy them!
I had an awesome view from my suite. This pretty much looks like the pictures I had on my goal board when this trip was announced. Funny how that works, right?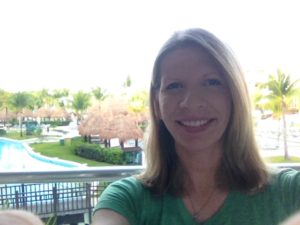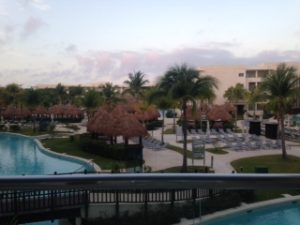 Our suites were just gorgeous!
Skype is free, even internationally, so I took advantage of it to talk to my family!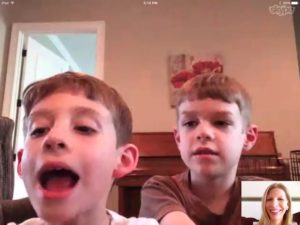 I really loved the Shaklee Life Shake bar every morning! I just told them what I wanted and they blended it right up! Yum!
We also had endless Shaklee 180 bars and energizing tea available! The resort was all inclusive and there was such a wonderful spread of fresh foods every day for us! We were spoiled!!
Shaklee also spoiled us with fun room drop gifts daily and sometimes multiple times per day! Here are a few of them. I was thankful for the sunglasses as the ones I brought with me broke the same day I got these!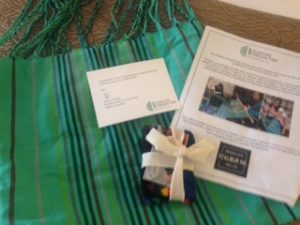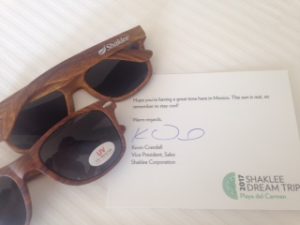 I loved the handmade bags they gave us. Unfortunately, they got hung up in customs so we didn't have them for the first couple of days but we were all thankful when they arrived.
The first day we had an award ceremony, which was a lot of fun! I received awards for rank advancement since our conference in August and for being a first time dream tripper! I love my salt and pepper shakers which were also handmade in Mexico!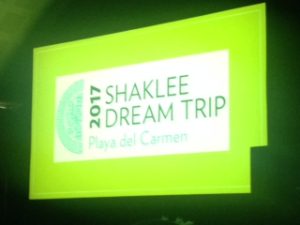 They also gave us this cute little jar of energy chews and maraca pens. You can't have enough energy chews when you are traveling internationally and there are so many fun things to do and see while you're there! They definitely came in handy!
Many of the top rank Master Coordinators were with us on this trip. This is DeDe Shaw, who has the biggest organization in Shaklee, and is one of my mentors and upline! She's fantastic and it was so much fun spending time with her in Mexico!
I also loved spending time with good friends like Carla! She's also in DeDe's group.
More good friend pictures: This was the best part of the trip – connecting and reconnecting with Shaklee friends! Can't wait to see many of these friends again in Atlanta in August for our global conference!
Beach walk with Master Coordinator Barb Lagoni and my new friend Crystal and her daughter Lauren. I loved hanging out with them in Mexico. My hat was about to fly away!!
Goofing around with Barb on our downtown shopping trip!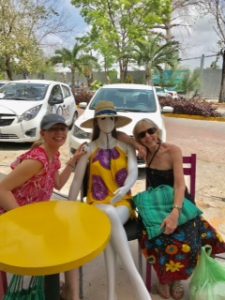 I loved spending time with my Chicago friends Pam and Moyra. And also Chris, who was awesome helping to plan such an amazing trip for us!!
and another Chicago friend, Kristen!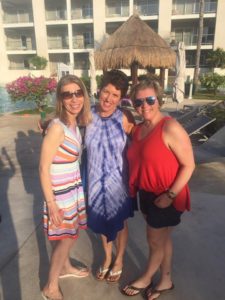 Loved getting to know Nicole and her husband Casey 🙂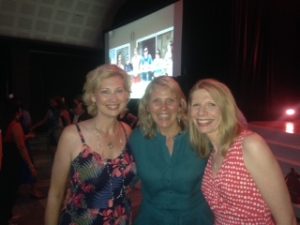 And loved meeting so many new sweet friends like Paulette who was there with her equally sweet daughter Tiffany!
I got up early for Yoga and again for the Burn Boot Camp which kicked my butt!
Gym owners and Shaklee boot camp trainers Morgan and Devan got us all moving! Looking forward to doing that again in Atlanta this summer at our global conference.
Olympian Eli Bremer was also with us and shared his young premature son's inspiring health story with us. His story reminded me a lot of Benjamin's.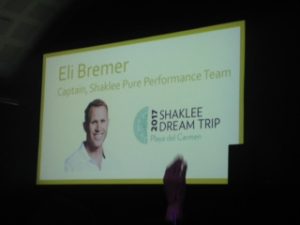 I felt very fortunate to have some 1:1 time with our awesome president, Heather Chastain. We are so lucky to have her with Shaklee!
Shaklee had a couple wonderful dinners planned for us. Here are some pictures from those:
Canadian Master Coordinators Martha and Ivan Willmore. I love to learn from Martha! She's so knowledgable about health and nutrition.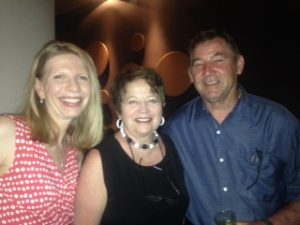 Also loved talking with the Mannes sisters. Their parents started their Shaklee business over 50 years ago and now these two sisters run it together! I love that you can pass your business and the work you've put into it, down to future generations!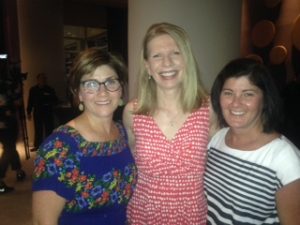 And with Master Coordinator Wanda Hart –  We had a really great conversation pool side one of the days on our trip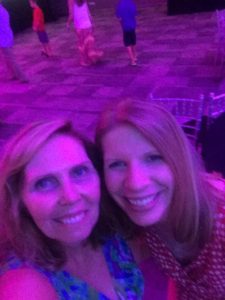 A few more beach and fun pictures
They had a coloring contest for the Shaklee kids who were on the trip and the winner's entry is made into this beautiful keepsake plate that Shaklee just mailed to us! I love it!
I met my friend Kelly on this trip, who is not with Shaklee, in the Dallas airport on my way to Cancun. She was traveling by herself for a little R&R and happened to be from Fargo, ND. That is the same place my dad went to High School and loved so much. We had lost dad 6 months to the date that I was traveling. Kelly and I  became airport buddies and navigated the customs together in Cancun. She was at a different resort but we ended up in the same customs line on the way back home and got to connect again, hearing about each others Playa del Carmen experiences! So fun!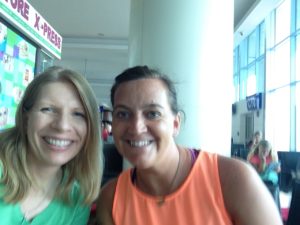 This was really such a wonderful trip and experience. I am so grateful for the opportunity from Shaklee to go, and to my team, who work so hard with me, helping so many people to live healthier lives and creating a better future for themselves and their family! I am truly grateful to have this opportunity and to be a small part of something so big with Shaklee!
Next year's Dream Trip is to Los Cabos, Mexico! Would you like to learn how you can join me there?
Rebecca