My family and I recently drove to Nashville, TN, which is about 5 hours from Oxford, so my husband could attend his AACP conference at the Gaylord. We had been there 4 years ago for my Shaklee conference and had a great time! We were excited to go back.   My parents were with us for the trip 4 years ago, which was a lot of fun. Some of you know that I lost my dad last fall, so some of the memories were bittersweet. But we did have a really fun time and I wanted to share some of the picture highlights with you!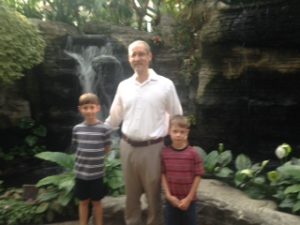 The first night we were there we went back to a restaurant we liked on our first trip near the Gaylord. We actually went there with my parents for Benjamin's 3rd birthday! So we took the same picture again. The first was taken 7/15/17 and the second was 8/3/13 with my parents.
There was a band playing that night and the boys really enjoyed their music!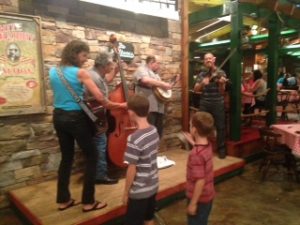 We love the fountain shows at the Gaylord so got to see one the first night too!
The boys also loved the arcade
The boys and I went to the HUGE outlet mall by the hotel and had some fun there in Bass Pro.
We also took in one of the family movies they have nightly. Moana! I had never seen it. It was good 🙂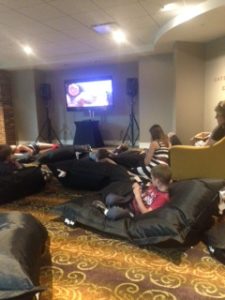 They have an Alice in Wonderland theme going right now at the hotel so the boys and I did the scavenger hunt one day. It is so easy to get lost at this hotel. It's HUGE and has almost 3000 guest rooms!! We also went swimming but didn't get any pictures there. The Gaylord has 3 pools.
And we took one of their boat tours in the hotel with David.
Fun mirrors!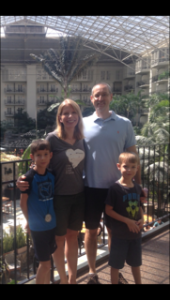 The kids and I decided to venture downtown to the Adventure Science Center one day that David was at his conference. It turned out to be quite the adventure! For some reason this is the only picture I took there. I was probably too busy keeping track of my kids in the 3 story adventure maze thing they had. It was fun and we also learned and loved the Planetarium show they have there.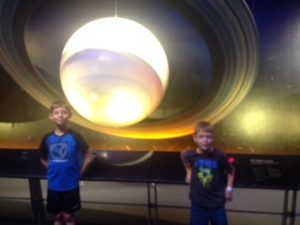 It was a hot day and we were thankful to get back to our van to get home in time for David's science section dinner that night. But like all good plans….. we came out to a completely flat tire!!! I called AAA right away, but then a woman who I had talked to briefly in the science center, happened to be leaving with her kids at the same time and parked right by us saw that we had the flat. She could have driven away. but she stopped and asked if she could help. She knew how to change a flat and could do it before AAA even got there. (they were coming in 1.5 hours). She insisted and she helped me so much that day! I was so grateful! Thank you Melissa!
We did make it back to the hotel by 5 and had 30 minutes to change and get to the dinner but decided to order pizza and a bottle of wine and call it a day. We even got to see the fountain show again from our table. It was my favorite dinner we had on this trip!
The next day David got up early and got our tire fixed. And we found a little time to go to Wave Country, which is a big water park with water slides and a wave pool. It was a hot but really fun day!
If you haven't been to the Gaylord or to Nashville, I highly recommend it! The hotel is beautiful (but have a map in hand!) and there's lots to do around the city. We will be back again!
Thanks for reading and have a great day!
Rebecca