Have you ever been on a spiritual retreat? If not, I highly recommend it!! I just returned from a fantastic spiritual retreat and I wanted to share about it. I was trying to remember the last retreat I had been on…my husband and I went on a marriage encounter weekend a few years ago, which was also fantastic. But different. That is with your spouse and working on strengthening your marriage through faith. I highly recommend that too but this was different. The last ones I had been on were the Journey retreats in graduate school! (which led me to meeting David in a round about way!). But when I really thought about it, I had never been on an all women's retreat before! Why in the world I waited till 40 is beyond me! 🙂
There were 25 women there, 15 of which were from my Parish! It was a wonderful opportunity to get to know some of the women in my church better but also to meet other wonderful new friends!
The theme of the retreat was Hearts on Fire and was done at Our Lady Queen of Peace retreat center outside of Memphis. If you're in this area and are interested, you can attend a future retreat there. There will be more that they are putting on in the near future and you do not have to be Catholic to attend.
I am so thankful for my husband who so graciously held down the fort at home with the kids so I could go. I carpooled with 3 other women. The facility itself was very nice. We were really taken care of. (spoiled actually!!)  I had my own room with a private bathroom.  And the meals were awesome! They have a catering company that fed us so well and I didn't have to do dishes either! Everything was taken care of so we can just be and spend time growing closer to God. The team did a fantastic job of taking care of us, presenting, and sharing. The music was awesome and I even got to bring my flute out to play a bit too. God gave me a gift and I love to use it for His glory!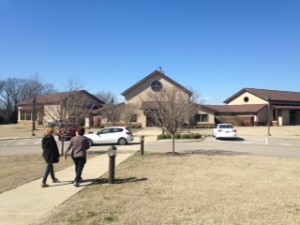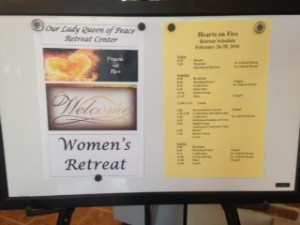 This pond was the view from my room! It reminded me of the pond across from our house in Indiana! Same fountain 🙂
The weather was absolutely gorgeous! In the 60s! So on Saturday afternoon I went for a long walk around the grounds during some of our meditation time. I can't say enough how awesome it was to totally unplug for the weekend and just spend quiet time with God. Hint: the key is quieting your mind so you can hear His voice! It's nearly impossible to do that when we have so many distractions in our day to day life! So taking the time to re-fill our spirit is so important. It helps us to be a better person, spouse, parent, friend, etc.
I am glad to share more about my retreat if you're interested. I encourage you to look into retreats that your church may take part in. It is WELL worth the time and the money! (which really isn't expensive!)
Thanks for reading and have a peaceful day!
Rebecca