We had an absolutely fantastic long weekend at the Leisure Lakehouse in Cadiz, Kentucky recently! The house was pretty much exactly in between our home in Mississippi and our good friends, The Roths, home in Indiana! David and Josh worked in the same research lab at UC Irvine when they were in graduate school. We lived near them in California and after their respective postdocs we all ended up an hour away from each other in Indiana! Now that we are in Mississippi we still try to see them as often as we can. We each traveled about 5 hours and had a wonderful time spending time together in Kentucky, playing games, reading, laughing, eating, fishing, kayaking, hiking, exploring, enjoying a bonfire and taking in nature! It was so relaxing and fun and I wanted to share some of the pictures from our time there. Warning, there are a lot of pictures to share!
The home was beautiful with 3 bedrooms and 2.5 bathrooms, a fully stocked kitchen, propane grill and was very comfortable for all of us! And we had a lot of people with 4 adults and 6 kids ranging in age from 3 to 12!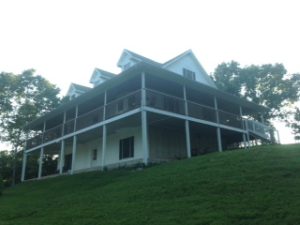 One of our favorite features of the house was the large wrap around porch. I enjoyed coming out early, before anyone was up, with my tea and book and enjoying the sights and sounds. We saw several deer, a beaver, owl, turtle, frogs, fish and thankfully, not too many bugs!
The kids had so much fun reuniting and playing together! The Roths are our oldest son Andrew's Godparents and we are the Godparents to their oldest son, Kendrick. The kids played so nicely and there was no TV or screen time for them and they didn't miss it!
The coffee table/foosball table was a huge hit!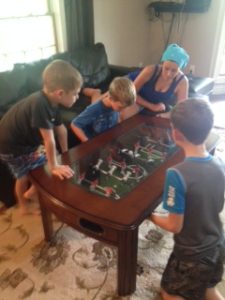 Josh was our master griller! He grilled our lunch and our dinners and it was good!!! David was there for moral support 🙂
The house was stocked with games and books and I found a book I had been wanting to read so I sped my way through it on the weekend and was able to read it all and we rented the movie when we got home! The book was better but both good. If you haven't read it, I highly recommend "The Shack." I especially enjoyed the couple hours of rain and thunder we got on Saturday so I could read on the porch and enjoy the storm 🙂
The house had 4 kayaks and some of us kayaked both Friday and Saturday. On Saturday we somehow managed to get all of us on them at once and kayaked over to the little island across the lake to explore. It was so much fun and a great arm workout!!
We saw 3 families of deer on our drive to the house and this was a little fawn running into the woods with its parents. We also saw some deer in the mornings on the house property.
Our weekend included a bonfire, campfire songs and s'more making! So much fun!!
Laura was excited to show the kids a tiny tree frog she found!
Fishing! David's favorite activity. The fish were mocking us as they jumped around the dock but never onto our line. We had a lot of fun though teaching the kids to fish!
The weekend went fast, as they always do. We were so thankful for the opportunity to spend time with our friends on this vacation. If you're in the area, we definitely recommend the Leisure Lakehouse! Such a fun and relaxing time!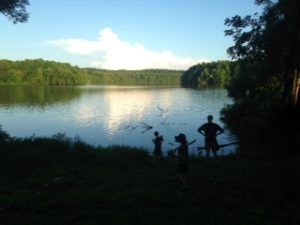 Thanks for reading and have a safe and happy 4th of July!
Rebecca