My family recently returned from one of the best family trips we have taken. We really love Disney and my kids have been so spoiled getting to go a few times around conferences my husband or I had. But this time was solely for the purpose of vacation time in Florida! And we had a blast!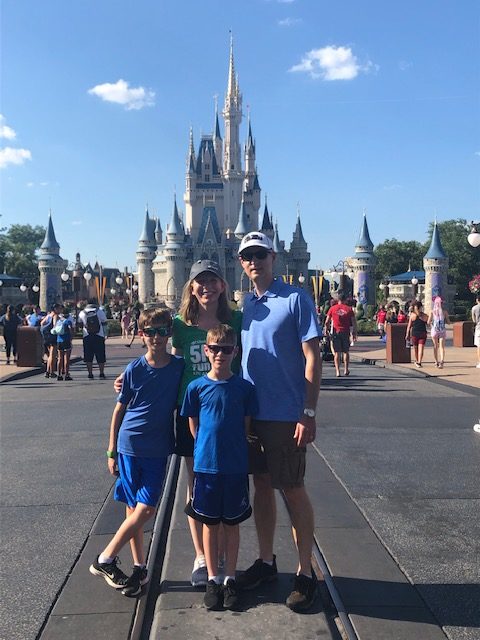 You can see Part 1 of our trip here where we had some really fun beach time!
Today I will share some of our Disney Magic Kingdom experiences and on the next post, Epcot. I will also share about Universal Studios and Islands of Adventure in a future post too.
Since we were splitting the park days with Universal, we did a little less Disney this trip. I will be honest – I could have spent a whole month at Disney. I absolutely love it and always have. But this time we went to Magic Kingdom for two days and Epcot for one day.
I mentioned in my part 1 post how we like to drive to Orlando. We always break up the trip and the kids have gotten to be great car riders. We like to be able to bring what we want, without airline restrictions, see more of the country, and also it's great to bring lots of snacks and breakfast food for the days we stay at the Disney hotels. This saves time and money so we can get to the parks early when they are less crowded and less hot.
We always cheer when we reach this part in our road trip – We have arrived!!!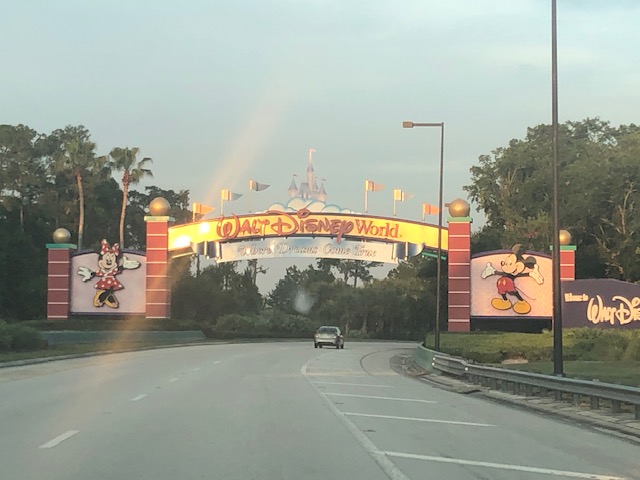 I know there are differing views on where to stay when you go to Disneyworld, but we always opt to stay at one of the Disney Value resorts. You still get all of the perks of a Disney stay and all of the feels that go with it, but without the high price tag of the bigger resorts. For us it's all about the parks, so we don't really spend much time in our room and when we are at the resort, we are in the pool!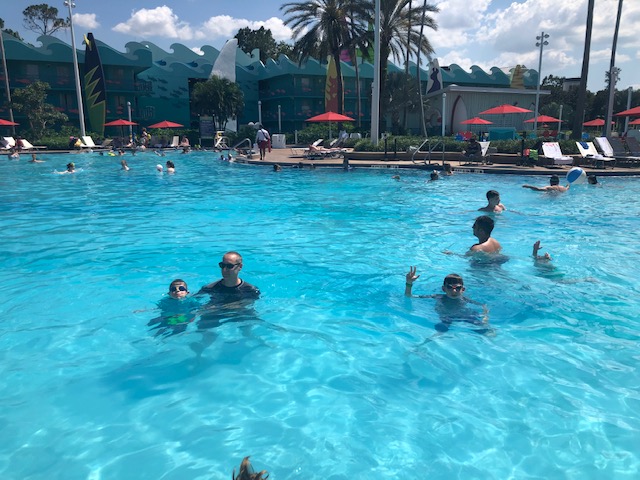 This time we opted for the All Star Sports resort. We have stayed at All Star Movies and also Pop Century. Of the 3, Pop is my favorite. It's bigger, newly renovated, and the food court is much better than All Stars in my opinion.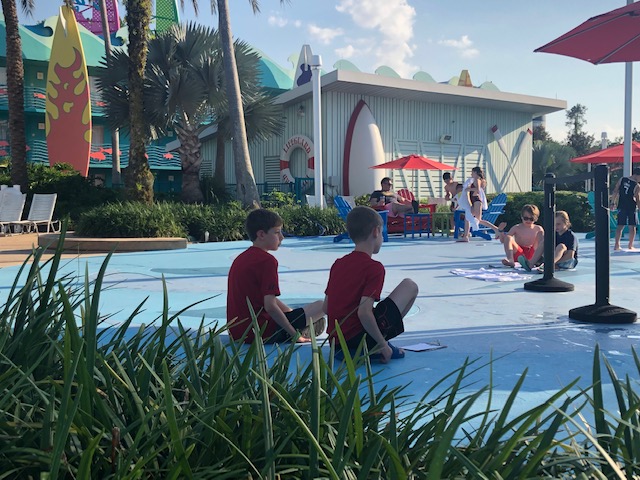 We also have considered staying off site. But the early magic hours, magic bands, and the fact that we can park for free at the parks while staying on site, wins!
FYI if you do drive, Disney resorts are now charging for parking per day. This is new since the last time we went. The Value resort was $13/day. It goes up from there.
The first full day, we couldn't wait to get to Magic Kingdom! I guess I am a kid at heart because it has always been my absolute favorite. We got there at rope drop (which I recommend!) and went straight to Tomorrowland. Now, this is a change for my normal where I head to Adventureland and ride my favorite – Pirates of the Caribbean! But I learned from past trips that I need to ease my 8 year old into any scary, dark ride and esp. one that has drops. And Pirates has all of these! So I went against my grain and we went right to the Tomorrowland Speedway and were the first on it! It's not my favorite, if I am being honest, but the rest of my family love it. And it just reopened after being closed for awhile to make room for the new Tron coaster going in soon! It's also nice to ride it early as waiting in the cue can get pretty hot.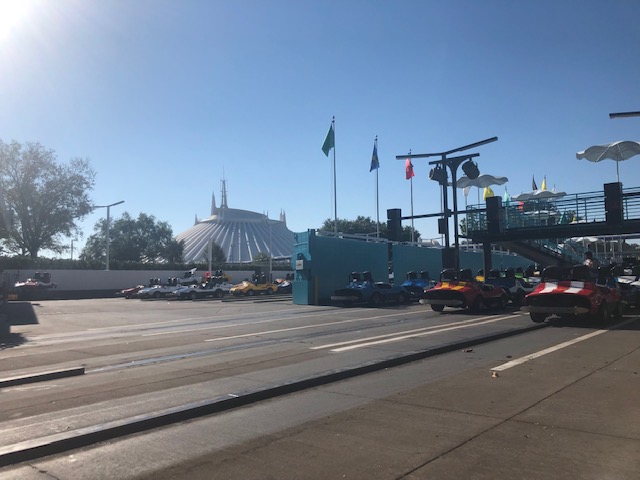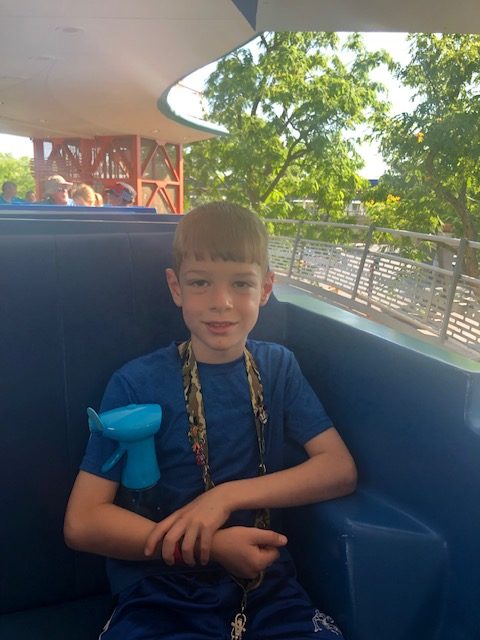 Benjamin and I rode the People Mover while David and Andrew tried their luck on Space Mountain. The lights were on in Space Mountain, so we got to see this! I don't think I want to ride that one ever again. But Andrew and David were able to ride it later that day when it reopened.
Checking out the new Tron coaster. This one looks pretty cool and can't wait to ride it on our next visit!
You're never too old for Dumbo!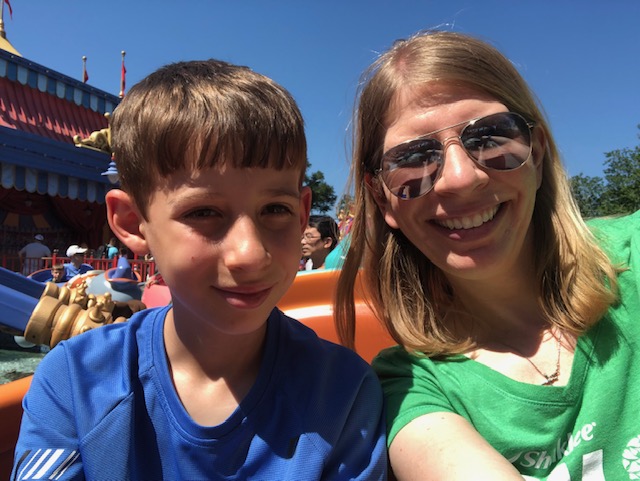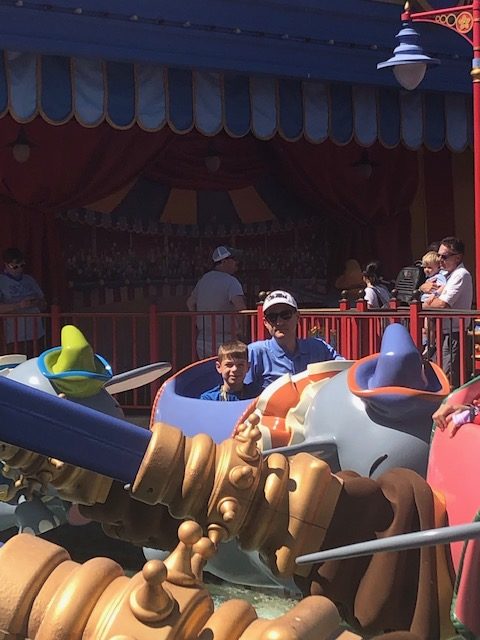 Confession: we don't usually do Disney parades. I know, some of you may be in shock or even disappointed. We actually got stuck trying to get back to Adventureland here going for our Dole Whip! It was a long parade. But I do love Beauty and the Beast so had to capture a picture! 🙂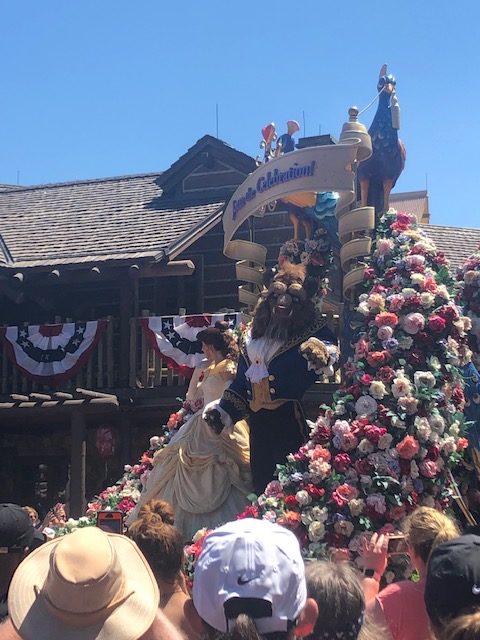 One of my FAVORITE parts of this trip was David getting to be "that guy" at the Monsters Inc Laugh Factory show. I highly recommend the show. It's so funny. And they randomly pick a few guys out of the audience and put them on the big screen. And David was "that guy" so they attributed getting the laugh gage up because of "that guy". So much fun and they gave him a sticker to prove it!
One of David's favorites in the Magic Kingdom are the Country Bears. And we were able to grab a picture with Big Al! It was a hot day, so I can't imagine how Al was feeling!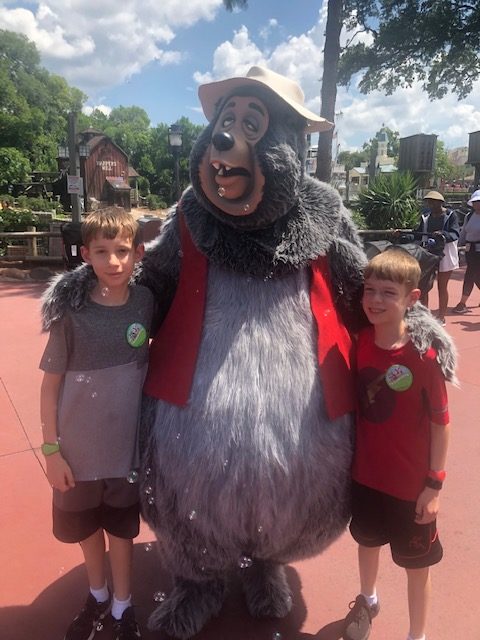 No Disney trip is complete without a ride on It's a Small World! This is a great one to get out of the sun with too!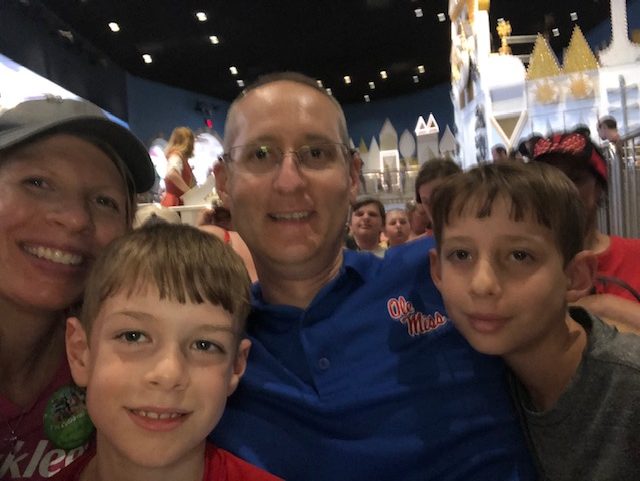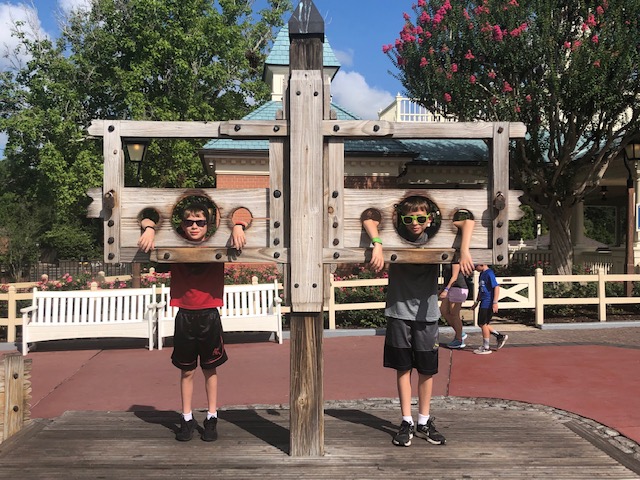 The jungle cruise is always fun and relaxing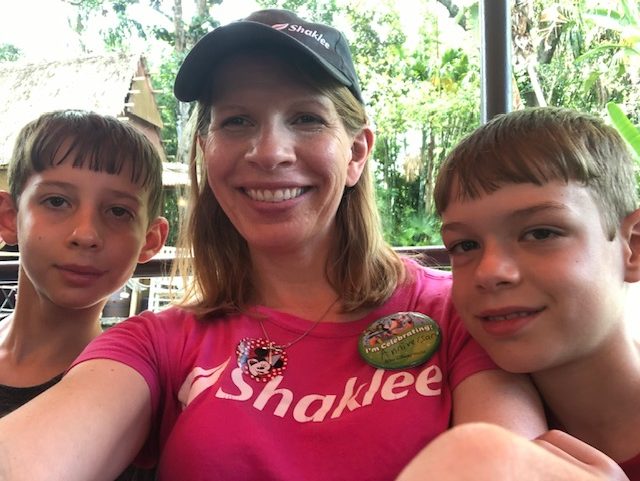 Another of my must rides at least once is the Haunted Mansion! This is another great one to cool off in. And it's just a super cool ride in my opinion! We were also right in front of other Ole Miss folks the first time we rode this!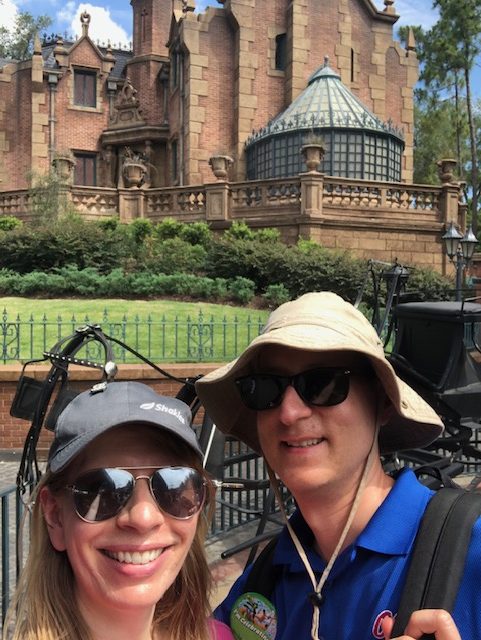 I mentioned earlier that my youngest has been scared of any ride that is dark or has any drop. But we had a major breakthrough on the last day at Magic Kingdom. We had gotten Sea Bands for nausea on rides at Universal and decided to have Benjamin try them at Disney. And his confidence boosted and suddenly a switch flipped and now he loves all the big rides like the rest of us! This is a picture of the boys in the cue for 7 Dwarfs Mine Train. This ride was new when we were here in 2015 and it became my favorite Disney coaster. So smooth with cute theming. I am thrilled that my whole family can do all of the rides now! And super proud of Benjamin for overcoming his fears!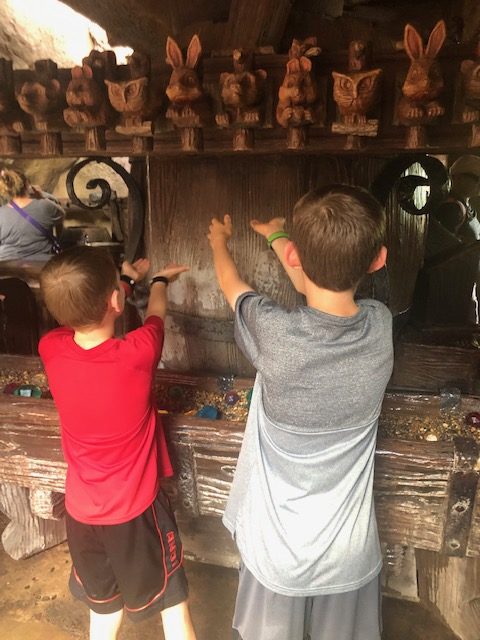 I will share more soon on our Epcot adventures. Thanks for reading and please share what your favorite rides and must do's are at Magic Kingdom and Disney! We can't wait to go back!
Rebecca